Easy Vegan Leek And Potato Soup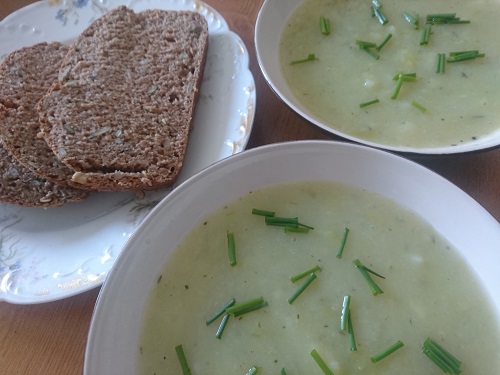 Last week, I found I still had some potatoes that needed to be used up. I used to make soups all the time but recently not so much so I pulled out my immersion stick blender for this oldie but goldie of recipes. This easy vegan leek and potato soup was quick to make and perfect for these chillier spring days in the UK.
Soups with some freshly baked sourdough bread just make me feel happy and relaxed. It can still be chilly here in the UK so they are just perfect for those colder days.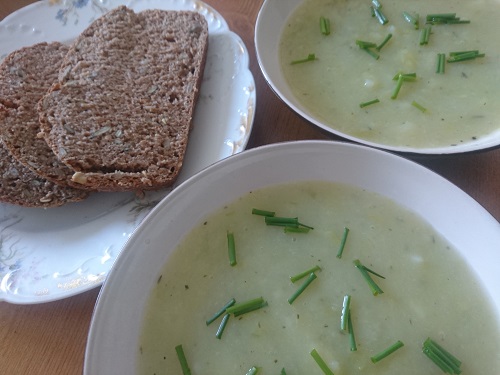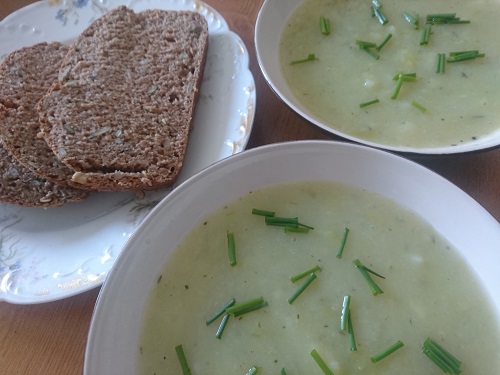 This easy vegan leek and potato soup is quick to make and does not need too many ingredients.
What I like about this recipe is that I can use my homemade vegan butter to make it. Soups are great to be enjoyed with some freshly baked bread and I always have sourdough bread. It may not always be baked the same day but I keep it in the freezer, in slices so it is easy to be taken out and defrosted when needed.
Many people ask how to prepare leeks and I added the below picture of my preparations below. First, you cut off the top and the bottom and then you cut them in half. This way it is much easier to clean them properly under running water.
Once you have washed your leeks you can then start cutting them in smaller slices. Don't worry too much about this stage as they will be blended until smooth in the end.
These were the potatoes I used. I had collected them from Olio along with the leeks. This is a great way to reduce waste and get a very wholesome and free meal.
Easy Vegan Leek And Potato Soup
Yield: Approx. 4 servings
Easy Vegan Leek & Potato Soup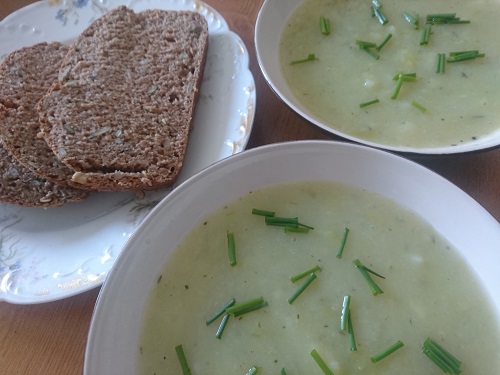 Ingredients
1 ½ tbs olive oil (or any other oil that you prefer)
3 large leeks, cleaned and thinly sliced
1 small onion
5 medium potatoes, peeled and chopped
1 tbs vegan butter
3-4 cloves of garlic, minced
1 tbs salt, more to taste
pepper, to taste
½ ts dried rosemary
5 cups of vegetable broth or water
2 bay leaves
1 cup coconut milk (or any unsweetened plant-based milk)
Instructions
Wash the leeks well, best cut in half and wash under running water and then cut in slices.
Heat the oil, vegan butter and a pinch of salt in a large pot over medium heat.
Add the leeks and onion and sauté until softened. This should take about 5 – 6 minutes.
Add the potatoes, garlic and rosemary. Sauté for 2 – 3 minutes.
Add the vegetable broth/water, bay leaves, salt and pepper. Increase the heat until it starts to simmer.
Reduce heat to a low simmer and cook for about 15 – 20 minutes or until the potatoes are tender.
Remove from heat and remove bay leaves. Stir in the coconut milk and lemon juice. Taste for seasoning and add more to taste.
Using an immersion blender, blend until smooth and creamy. If you don't have an immersion blender you can also use a regular blender and blend in batches.
If you enjoyed the recipe and want to find more head over to my recipe section and join my Facebook Group which focuses on homemade vegan recipes that are affordable and healthy.
---
---