Elderflower Cordial Recipe – A Delicious Drink For The Summer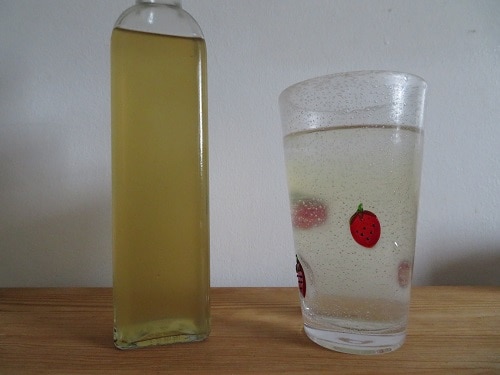 At the end of May up until the end of June, you will have seen the elderflower trees flower here in the UK. It is a great opportunity to go foraging and collect some of the scented elderflower sprays. If you ever wondered what you can make with it, I have a wonderful recipe for you: an elderflower cordial recipe which is a wonderfully refreshing drink for the summer months.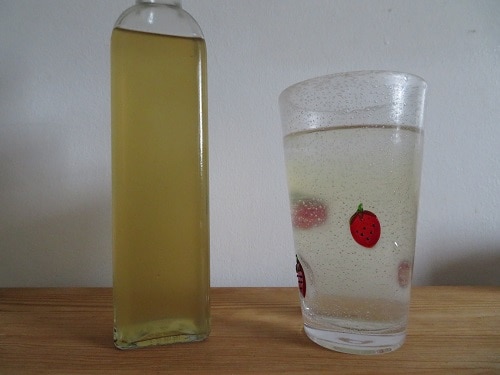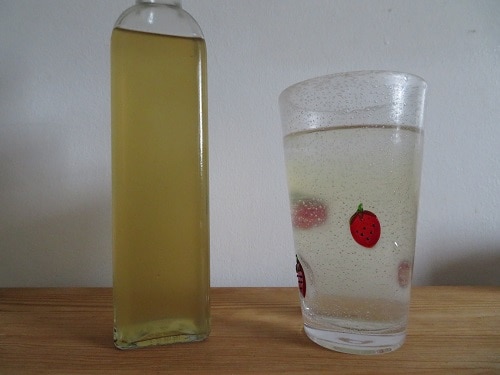 Foraging For Elderflower
I love foraging but so far I stuck to relatively save options like blackberries but every year I see these wonderful heavily scented elderflowers at the end of May and I always wanted to try and make something with them. I also love elderflower juice so it was just a logically step for me to try and make my own elderflower cordial this year.
When you go foraging try to avoid any elderflower trees that are close to busy streets to avoid toxins. I like to collect them in parks or at a path behind my house where there are no cars.
The best time to collect elderflower is the late morning. Make sure to shake the elderflower well after harvesting to get rid of any insects hiding in them. You don't want to wash them before making the cordial as it will weaken the flavour.
How To Make Elderflower Cordial
It is surprisingly simple to make the cordial. First, you simmer the elderflower sprays in water and you will slowly see it turning slightly yellow. Then you add some sugar and let it simmer for a bit longer until the sugar is dissolved. And that's it. Now you can enjoy a glass of refreshing elderflower cordial mixed with water.
If you want and can bottle the cordial into sterilised bottles and keep them in the fridge for a few weeks.
Elderflower Cordial Recipe
Yield: Approx. 1.5 to 2L
Elderflower Cordial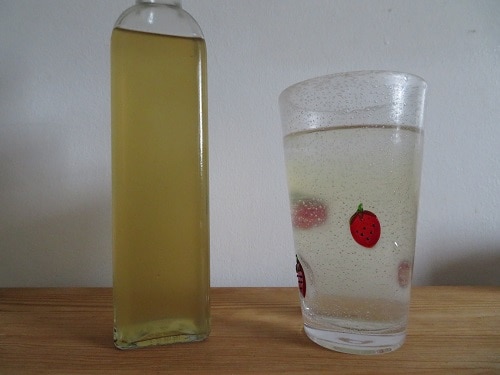 A refreshing cordial which can be mixed with still or sparkling water for a wonderful summery drink.
Total Time
1 hour
5 minutes
Ingredients
elderflower sprays to fill a 1 litre measure when lightly packed
Lemon zest of 2 lemons
or juice of 2 lemons
granulated sugar
water
Instructions
When gathering elderflowers ensure to shake them well to remove any insects.
Collect enough elderflower sprays to fill a 1-litre measure when lightly packed.
Cover the elderflowers with water. If necessary add more water while cooking as the water should always cover the elderflowers. Add as little or as much lemon zest as you want. Simmer for 30 minutes.
Strain the liquid through the muslin or tea towel into a new bowl or pan.
Per 500 ml of liquid, add 350 g of sugar and the juice of half a lemon. Bring gently to a simmer to dissolve the sugar.
If there is any scum, skim it off.
Once the sugar is dissolved you can turn off the heat and let the cordial cool down.
Pour the liquid into clean, sterilised bottles, up to about 1 cm below the top. Seal the bottles and they will last like this for several weeks in the fridge.
Nutrition Information:
Yield:
100
Serving Size:
1
Amount Per Serving:
Calories:

13
Total Fat:

0g
Saturated Fat:

0g
Trans Fat:

0g
Unsaturated Fat:

0g
Cholesterol:

0mg
Sodium:

191mg
Carbohydrates:

3g
Fiber:

0g
Sugar:

2g
Protein:

0g
Nutrition information isn't always accurate.
Have you tried this elderflower cordial recipe? Leave a comment and tell me how you liked it!
If you enjoyed the recipe and want to find more head over to my recipe section and join my Facebook Group which focuses on homemade vegan recipes that are affordable and healthy.
---
---