Delicious Vegan Sourdough Crackers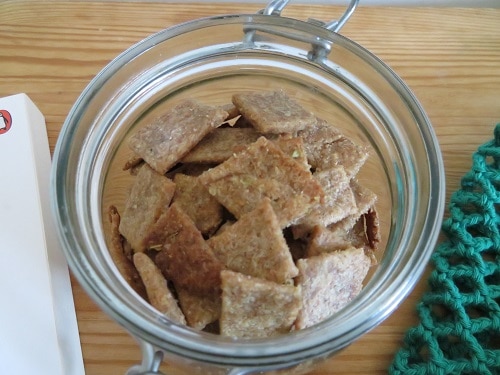 One of my rituals every week is baking my own bread with sourdough starter. Now personally I follow the no discard rule as I hate wasting anything and the bread still turns out fine. I'm also a bit lazy and don't want to feed my starter all the time. However, I know a lot of people produce discard so I want to share a few recipes that can use up the discard. Here is a favourite of mine: sourdough crackers for snacking!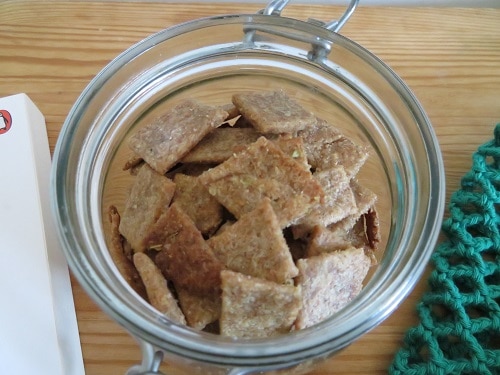 Sourdough Discard
If you want to ensure that your sourdough starter is always fresh and ready to bake you will feed it and produce discard. Personally, I only feed it before I bake so avoid the whole discard issue. If I want to bake something, like my English breakfast muffins, I just produce a bit more of my sourdough starter when I feed my sourdough starter before baking.
Sourdough Discard Recipes
There are quite a few great recipes you can follow if you need to use up discard. You can make English breakfast muffins, these sourdough crackers, normal muffins and so much more! I will share more recipes when I try them.
Sourdough Crackers
Yield: About 100 crackers
Vegan Sourdough Crackers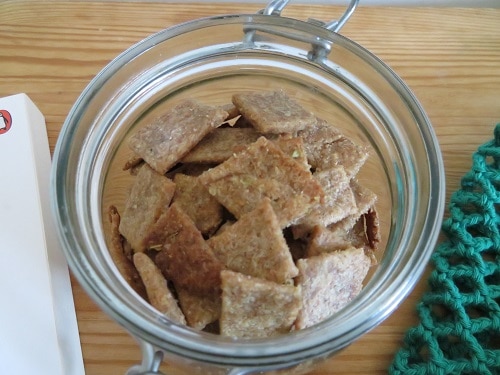 Make this snack with your sourdough discard. It is great for hiking trips or picnics and goes well with vegan spreads, cheese or hummus.
Total Time
6 hours
20 minutes
Ingredients
1 cup whole wheat flour
1/2 tsp salt
1 cup sourdough starter
1/4 cup olive oil
Toppings: coarse salt and rosemary (optional)
Instructions
Combine starter and oil then add the dry ingredients.
Knead the dough a few times to incorporate the flour.
Cover and let rest for 6 hours.
Preheat oven to 175°C.
Flour surface and roll out half the dough on parchment paper. The dough should be about 2mm. Then cut with a knife or I often use a pizza cutter into bite-sized pieces.
Brush with olive oil and sprinkle with salt and rosemary.
Bake for 6-8 minutes, turn crackers and bake for 6-8 more minutes
Transfer to a cooling rack. Store in a glass. They also freeze well.
Nutrition Information:
Yield:
10 servings
Serving Size:
1
Amount Per Serving:
Calories:

132
Total Fat:

6g
Saturated Fat:

1g
Trans Fat:

0g
Unsaturated Fat:

5g
Cholesterol:

0mg
Sodium:

176mg
Carbohydrates:

18g
Fiber:

2g
Sugar:

0g
Protein:

3g
Have you tried this vegan sourdough crackers recipe? Share it in the comments!
If you enjoyed the recipe and want to find more head over to my recipe section and join my Facebook Group which focuses on homemade vegan recipes that are affordable and healthy.
---
---