Best Sourdough Discard Recipes – 3 Easy Recipes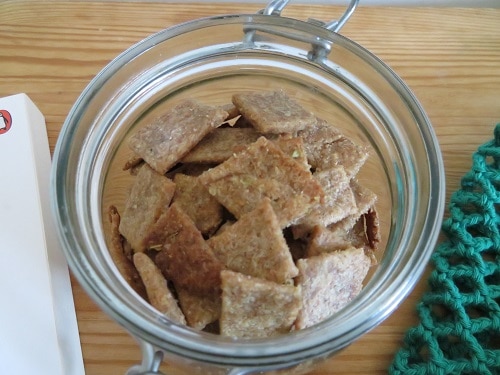 Personally, I follow the no discard routine. I only feed my sourdough starter before baking a new loaf to ensure I have an active starter. This works well for me but I know there are some people out there you like to keep their sourdough starter fresh and may be looking for the best sourdough discard recipes. I wanted to share here a few of my favourite recipes for sourdough discard.
Sourdough Discard
When you have a sourdough starter some people recommend to feed it regularly. If you don't regularly bake you will produce discard as you cannot grow your starter continuously.
Now, personally, I don't follow this as a sourdough starter can be kept 'dormant' in the fridge and just fed when you want to bake. For me, that routine suits me much better as I am trying to slow down my life and rid myself of unnecessary routines – like feeding a starter and keeping it in perfect condition to bake when I don't actually want to bake.
I usually bake sourdough once a week, slice it and freeze it for when I need it. This way it is always fresh. However, I've gone stretched of two to four weeks without baking when I was travelling for example and my sourdough starter is just fine. It may develop some liquid on top which is completely normal and absolutely no problem. You may skim it off or just stir your starter. Just feed it before you bake next time and the starter will become active again.
Now as I don't produce discard myself if I know that I want to make one of the below recipes I just take out some additional starter when I bake bread. This way I ensure I have no waste and it is easy enough to manage. But for everyone who prefers feeding their starter I've collected the best sourdough discard recipes below.
Best Sourdough Discard Recipes
Here is a collection of the best recipes I found to use sourdough starter/discard. I will add more when I try more but the below are tried and tested and firm favourites in our household.
Pizza Dough
Instead of making my pizza dough with yeast I sometimes use my sourdough starter. It is an easy process and you will need about 200 g of your sourdough discard or starter. Pizza is one of our go-to meals if we feel lazy but making your own sourdough base is just so satisfying. Try it and if you have kids let them help. The process is easy and adding your own toppings later is so much fun!
English Breakfast Muffins
My usual breakfast is granola with oat milk but for the weekends or if I fancy something a little more special I have English breakfast muffins in the freezer. I prepare them at the weekend and freeze them on the day. That way they are fresh when I defrost them and make a great treat. You will need half a cup or 120 g of sourdough discard for this recipe. It is a bit more time-intensive but since I freeze them and only have them on special occasions they last a few weeks.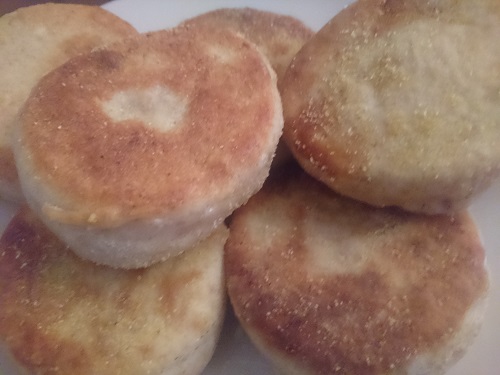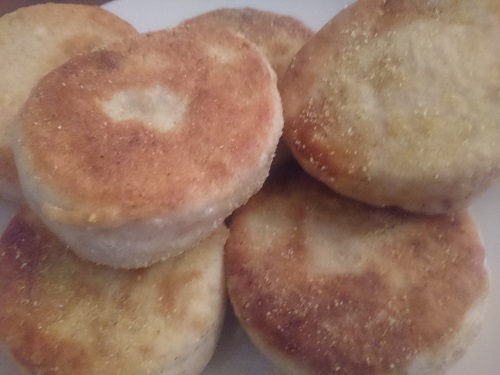 Sourdough Crackers
These crackers are amazing and you can add other flavourings if you like. My favourite ones are simple and just have salt on them.
I like to make them at the weekend and they last well in a glass jar. I have kept them for a month before with no issues. They make a great snack and I love taking them on hiking or cycling trips. They taste amazing with some fresh hummus but usually we just eat them straight from the jar.
You will need a cup of sourdough discard (about 240 g) and they are surprisingly simple to make. I like taking a pizza cutter to cut the crackers.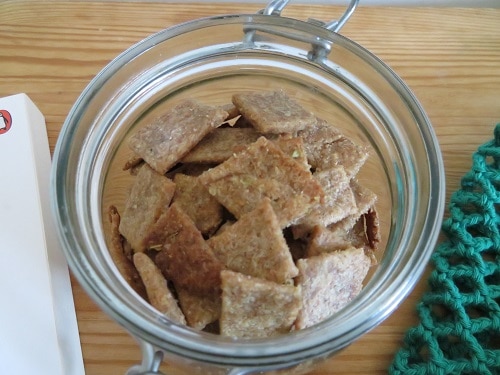 These are my current go-to recipes to make from sourdough starter besides my sourdough bread. If you have additional recipes that you love share them in the comments. I'd love to try some new recipes and use my starter in even more recipes.
On my list, I have quite a few recipes that I will try in the near future. I want to make cookies with sourdough discard, I can imagine it would be great making pancakes with it as well. I really want to try to use sourdough starter in my waffles. They have become a staple in our household recently for a lovely weekend breakfast. Keep your eyes peeled on this blog post as I plan on expanding the list of best sourdough discard recipes very soon!
Have you tried any of my best sourdough discard recipes? Comment below and let me know how you liked them! If you made variations I'd also love to know and try them soon. 🙂
If you enjoyed the recipe and want to find more head over to my recipe section and join my Facebook Group which focuses on homemade vegan recipes that are affordable and healthy.
---
---