Best Vegan Waffles – 2 Easy Recipes
My normal breakfast routine consists of homemade granola with oat milk. However, at weekends or for those special days I love making waffles. First I found it a bit intimidating to make vegan waffles but after a few tries, I have now two go-to vegan waffles recipes. I'll share these with you in this article.
You may wonder why two recipes? One has aquafaba in it which replaces the eggs but in case you may not have aquafaba ready I have also included a recipe without aquafaba. Both produce waffles that are crispy on the outside and soft on the inside. I find that the one with aquafaba crispens up a bit faster. But that partly also depends on the waffle iron you use.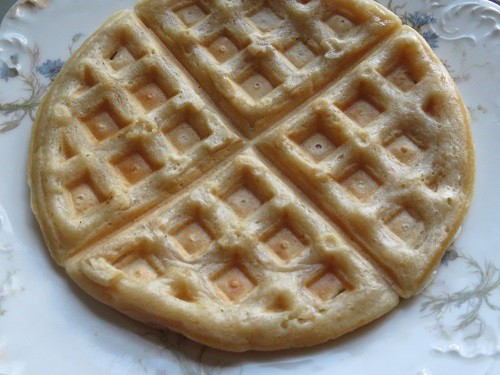 Both recipes are quite easy to prepare but if I have aquafaba from cooking with chickpeas I prefer the one with aquafaba. Both result in delicious waffles though so don't worry if you don't have any aquafaba at the moment.
How To Make Vegan Waffles
Preparing your vegan waffles mixture is really easy. First assable all your ingredients. I like everything ready to mix rather than looking for items while I prepare the mixture.
It only takes about 5 minutes to prepare the waffle batter. Weigh out your ingredients and mix according to the recipe. For the recipe with aquafaba there is some beating involved to get the aquafaba to a light and fluffy consistency like beaten eggs.
Mix the batter so that there are no lumps in it. That will ensure that your waffles are deliciously soft on the inside. However, I found that it is ok if there are some smaller lumps inside so just ensure all the bigger lumps of flour, if there are any, are broken up.
You may find that the waffles take less time, or maybe more in your particular waffle machine that you use. Please check the manufacturer's instructions how long you need to cook the waffles. Also some waffle irons require oil before use and some don't. So please read the instructions of your waffle maker before making these waffles.
Vegan Waffles Toppings
Here you can get creative! I usually stick to some fruit and maple syrup. My favourites are blueberries or strawberries with the maple syrup. However, bananas are also absolutely delicious. Experiement with a few different toppings to find the perfect one for your and your family.
Vegan Waffles Recipe Without Aquafaba
Yield: 4 Servings
Vegan Waffles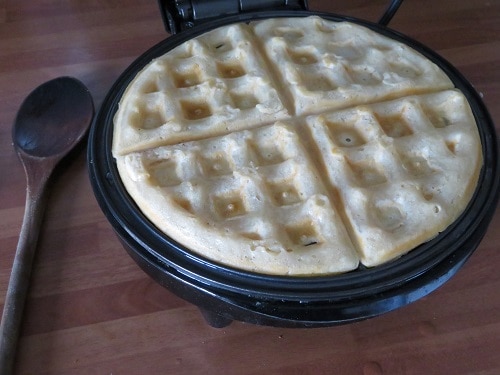 Delicious waffles which are crispy on the outside and soft on the inside. Lovely treat for a lazy weekend breakfast.
Ingredients
1 and 1/4 cup (156g) plain flour
2 tsp baking powder
2 Tbsp coconut oil
1/4 tsp salt
3 Tbsp sugar
2 tsp vanilla extract
For Serving
1 banana
blueberries
mape syrup
Instructions
Preheat the waffle machine (check manufacturer's instructions).
Sift the flour into a bowl and add the baking powder, salt and sugar. Then add the oat milk or other non-dairy milk, coconut oil and vanilla and whisk with a wooden spoon until you remove any lumps. The batter will be quite thin.
When your waffle maker is preheated, pour out the batter (use as much as recommended according to the waffle maker manufacturer instructions) and close the machine.
Cook according to the manufacturer's instructions. I like mine crsipy and that takes about 7-8 minutes with my waffle machine.
Serve with the toppings of your choice, e.g. fresh fruit and maple syrup.
Notes
Depending on the size of your waffle machine you may be able to make more or fewer waffles with this recipe.
Follow the waffle machines manufacturer instructions in terms of how much batter to use per waffle.
Check your manufacturer instructions about whether or not to use non-stick spray as some machines require it and some don't.
Nutrition Information:
Yield:
4 servings
Serving Size:
1
Amount Per Serving:
Calories:

222
Total Fat:

7g
Saturated Fat:

6g
Trans Fat:

0g
Unsaturated Fat:

1g
Cholesterol:

1mg
Sodium:

411mg
Carbohydrates:

38g
Fiber:

1g
Sugar:

22g
Protein:

2g
Vegan Waffles Recipe With Aquafaba
The easiest way to get aquafaba is from canned chickpeas. If you have aquafaba but don't want to make the waffles immediately you can freeze it in small icecube portions in your freezer until you need it. Just defrost before use so you can measure out the required amount.
Usually, I get my aquafaba these days from making chickpea curry. I soak the chickpeas the day before and when cooking them make sure I add enough water. The water will reduce during cooking and you end up with aquafaba. I then freeze the aquafaba if I don't use it immediately. My other go-to recipe besides these waffles is making vegan butter with the aquafaba. It is a fairly easy and quick process so if you never tried it before check out the recipe on my blog.
Yield: 4 servings
Best Vegan Waffles
Traditional waffle recipe but the eggs have been replaced by aquafaba. Makes 4 waffles that are deliciously crispy on the outside and soft on the inside.
Ingredients
250g plain flour
6 tbsp aquafaba
120ml vegetable oil
1 tbsp sugar
4 tsp baking powder
1/4 tsp salt
1/2 tsp vanilla extract
Instructions
Preheat waffle maker according to the instructions of the manufacturer.
Beat aquafaba in a large bowl with a hand mixer until fluffy. Beat in flour, oat milk, vegetable oil, sugar, baking powder, salt and vanilla, just until smooth.
If your manufacturer's instructions require it spray the preheated waffle iron with cooking spray. Pour mix onto the hot waffle iron. Cook until golden brown. Serve hot.
Nutrition Information:
Yield:
4 servings
Serving Size:
1
Amount Per Serving:
Calories:

544
Total Fat:

29g
Saturated Fat:

2g
Trans Fat:

1g
Unsaturated Fat:

25g
Cholesterol:

0mg
Sodium:

638mg
Carbohydrates:

65g
Fiber:

2g
Sugar:

12g
Protein:

7g
Nutrition information isn't always accurate. Based on one waffle.
Have you tried making these vegan waffles? How did you like them? What are your favourite toppings? Share it in the comments. Also please ask if you have questions. Happy to answer them.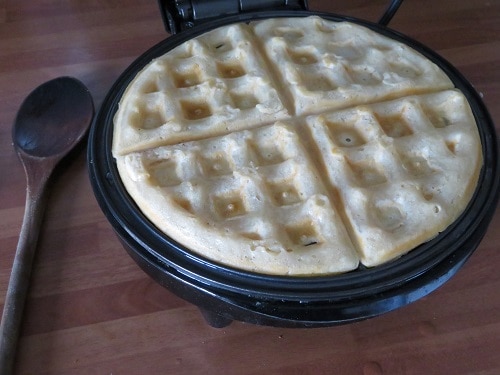 If you enjoyed the recipe and want to find more head over to my recipe section and join my Facebook Group which focuses on homemade vegan recipes that are affordable and healthy.
---
---