Make Your Own Oat Milk With Only 2 Cheap Ingredients
After testing a few different milk alternatives I found that oak milk is perfect for me. It is versatile, I like the taste – even in coffee and it was easier to make at home than I had thought! Everything I needed I already had, so a few months ago I decided to make my own oat milk. Maybe it is time for you to give this a go as well and make your own oat milk at home.
Some people find it can get a bit slimy but personally I have not experienced that. It may happen if you cannot strain the oat milk properly so maybe try a different approach. I use a very fine mesh sieve which works great for me. I found it at my parents' place and is from my grandparents so I was happy I could give it a new lease of life.
Now check that you have all things that you need to make oat milk. Don't worry you don't need a lot. You will need a blender, a sieve, a nut milk bag or simply a clean t-shirt, oats, water and if you wish a sweetener of your choice.
Why Oat Milk?
My favourite use is with my homemade granola. I always keep a jar of my granola for my weekday breakfast. It is packed with nuts and absolutely delicious. I really love oat milk for its versatility and it is an eco-conscious choice as it is more environmentally friendly than of course cows milk but also soy or almond milk. So if you are looking for tasty vegan milk that is also better for the environment than other milk, look no further!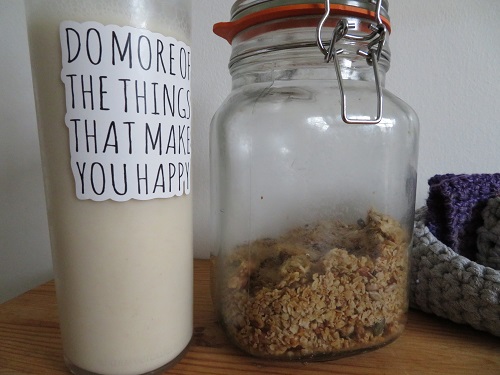 Not only is it the eco-concious choice but also a good choice if you want to live a more frugal life. It is very affordable. I just buy a big pack of oats which comes in a cardboard box and it lasts me several weeks. I will not only make oat milk out of it but also use it for granola and in baking. It is great value for money!
I usually make my oat milk at the weekend but really it is such a quick process that I started making it during the week. If I notice that I run out of oat milk I just take 15 minutes in the evening and prepare a new batch.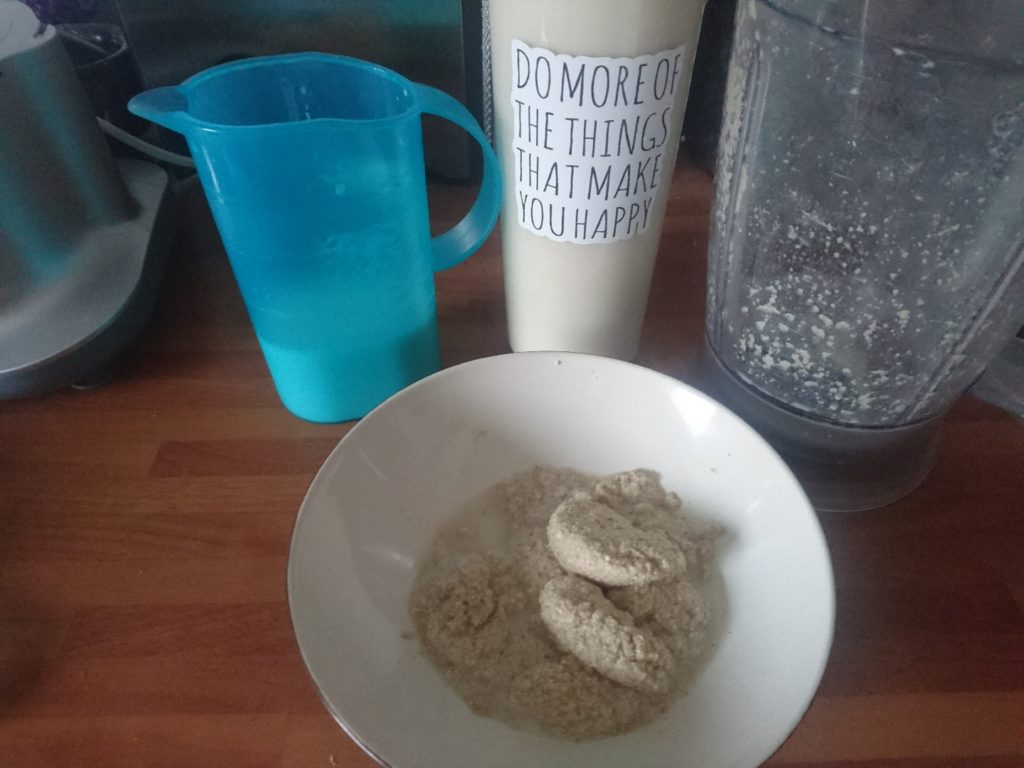 So now that you have your oats, water and kitchen blender prepared, learn how to make the oat milk.
Learn How To Make Your Own Oat Milk
You will only need these few ingredients and the syrup is optional! I sometimes add syrup if I want sweeted oat milk but usully leave it out as I use my oat milk for a variety of recipes.
1 cup oats (rolled oats are best)
4 cups of water
Optional: Add syrup if you like it a bit sweeter
Now that you have all ingredients together add the water and oats to your kitchen blender. Blend on high for about 30 seconds to 45 seconds depending on the power of your blender.
Then grab your strainer, nut milk bag or clean t-shirt to strain the oat milk. I tend to use a fine strainer sieve and found this method to be the best. I also tried it with a coffee press but that was too messy for me and I stuck to the strainer. It takes a little bit longer but really only every takes me a few minutes and the result is worth it!
Recipe: Make Your Own Oat Milk
Yield: Approx. 1.2 L
Oat Milk
Easy to make vegan milk which is great for baking or in coffee.
Ingredients
1 cup oats (rolled oats are best)
4 cups of water
Optional: Add syrup if you like it a bit sweeter
Instructions
Add the water and oats to your kitchen blender and blend on high for about 30 – 45 seconds.
Strain and ready! I use a small strainer sieve and it suits me perfectly but you can use a nut milk bag or clean t-shirt or towel.
Nutrition Information:
Yield:
10
Serving Size:
1
Amount Per Serving:
Calories:

53
Total Fat:

1g
Saturated Fat:

0g
Trans Fat:

0g
Unsaturated Fat:

0g
Cholesterol:

0mg
Sodium:

9mg
Carbohydrates:

11g
Fiber:

1g
Sugar:

4g
Protein:

1g
Nutrition information isn't always accurate.
Now that was really easy, wasn't it? If you do have questions about the process you can always leave a comment in my blog and I'd love to help.
Oat Pulp Recipe Ideas
If you ask yourself what to make with the remaining oat pulp here is an idea: you could try making raw chocolate oat bars! They are easy to make and are a nice treat or even make a nice breakfast alternative. I also made chocolate brownies with it in the past.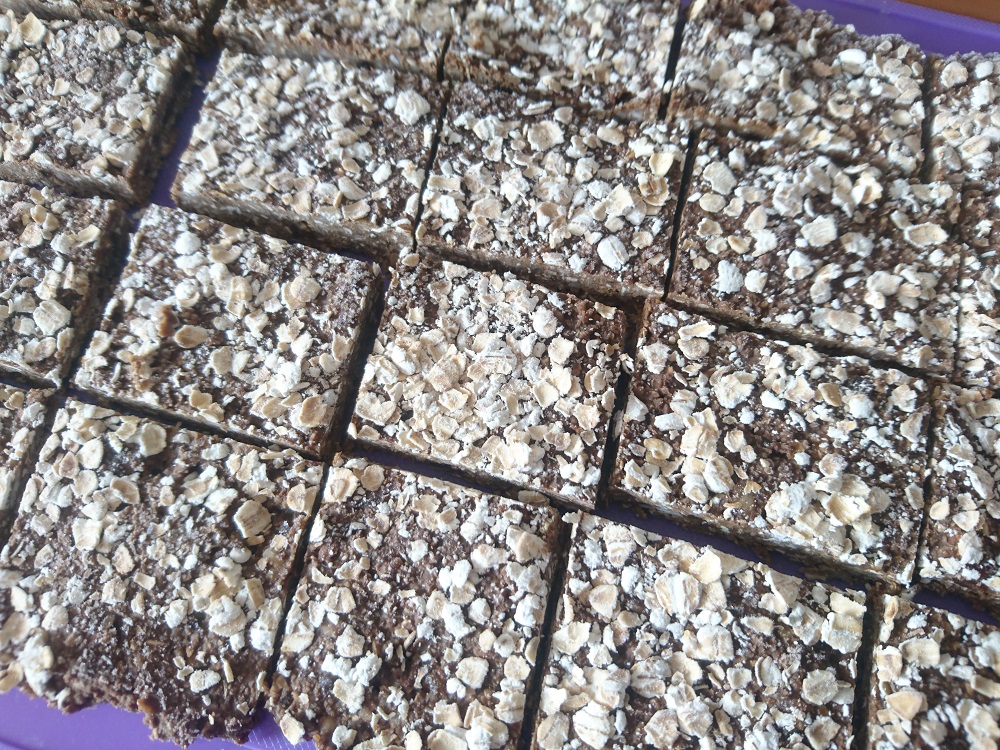 I am very curious how you use the leftover oat pulp though, please feel free to share your recipes in the comments! I love trying new recipes. 🙂
Why Is Oat Milk Separating?
If you made oat milk for the first time you may wonder if it is normal that it is separating. Yes, that is absolutely normal and happens also with store-bought oat milk but you may not have seen it happen yet because of the packaging. This is easy to fix! You just shake it when you take it out of the fridge! This is how mine looks after it sat in the fridge for a while.
Oat milk generally keeps well for about seven days. If you want to learn how to store your oat milk, read about it here.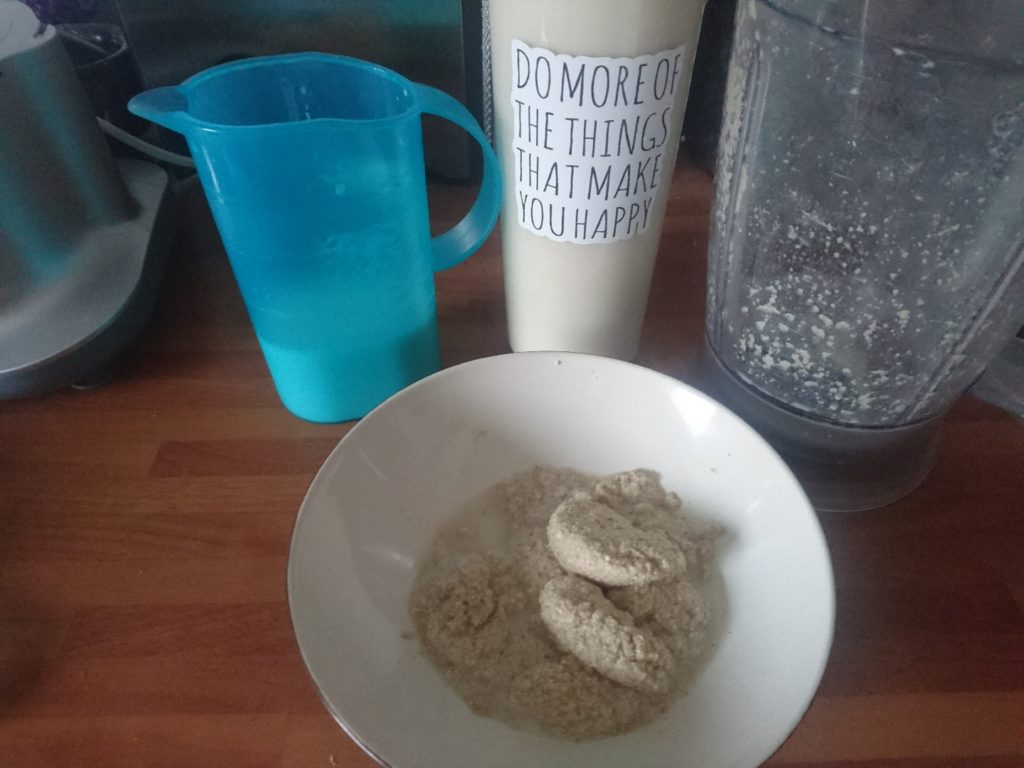 If you enjoyed the recipe and want to find more head over to my recipe section and join my Facebook Group which focuses on homemade vegan recipes that are affordable and healthy.
Comment below if you have any questions on how to make your own oat milk at home with this recipe. I'm very happy tp help where I can and maybe soon you will make your own oat milk at home regularly. 🙂
---
---