Easy Vegan Chocolate Brownies Recipe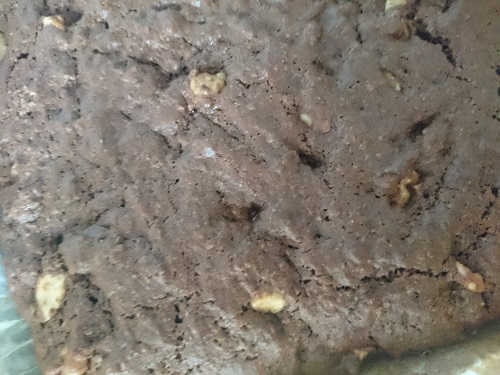 For my birthday, I really wanted to make something with chocolate so I tried this vegan chocolate brownies recipe. It has taken me some time to explore baked treats on my journey to eat more vegan foods. I used to bake all the time and there would always be either cookies or a cake waiting at home but recently not so much. I guess I was a bit intimidated by vegan baking. But there is absolutely no need to. It's fun trying new recipes or find alternatives for milk and butter in recipes.
It came out so fluffy and slightly crumbly which surprised me. It is not too overpowering as it is not as moist as butter-laden brownie recipes. That was a plus for me personally. I also always keep the sugar low so if you have a sweeter tooth than me you could add more sugar. However, I did add some butterfly sugar drops for decoration as I made it for my birthday.
This vegan chocolate brownies recipe won't take long to prepare. You might take less than ten minutes mixing the ingredients together. It just needs about 20 minutes in the oven and you have your special treat ready. As it was my birthday I added the little colourful butterflies on top.
Leftover Oat Pulp
I make my oat milk at home every week and always look for new recipes where I can add the oat pulp. My go-to recipe is these oat bars as they make an excellent breakfast alternative straight from the freezer. But if I fancy something special these chocolate brownies with walnuts for a bit of a crunch are just perfect. Sweet but not too sweet and prepared so quickly I can have oat milk and the brownies ready in under an hour.
Storing your Vegan Chocolate Brownies
If they survive the day in our house I usually freeze treats like this. I like knowing I have some treats in the freezer (along with my sourdough bread) so if I really don't feel like cooking or preparing something I have an alternative in the freezer. The brownies defrost pretty quickly as well so just take them out if you happen to have some friends dropping by.
Vegan Chocolate Brownies Recipe
Yield: Approx. 12 serving
Vegan Brownie Recipe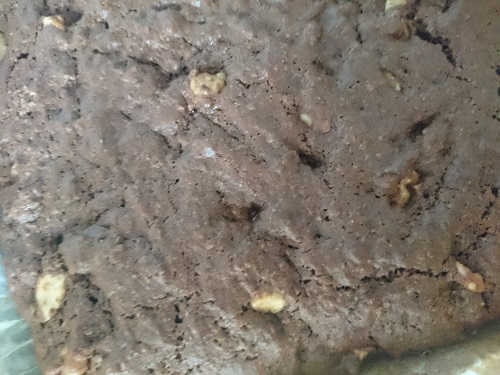 Delicious vegan brownie recipe made with leftover oat pulp from making oat milk. Perfect for any Zero Wasters!
Ingredients
170 g flour
2 tsp baking powder
1 tsp baking soda
3 heaped tsp cocoa powder
90 g light brown sugar
1 tsp vanilla extract
50 ml olive oil
50 ml oat milk
oat milk pulp (optional)
50 g walnuts (optional)
Instructions
Preheat the oven to 180°C/350°F/gas 4.
Line your baking dish (about 20 cm) with greaseproof paper or grease it.
Add all dry ingredients in your bowl and mix, then add wet ingredients and walnuts and mix until combined.
Pour the mixture into your prepared baking dish and spread it out evenly.
Bake for about 20 minutes.
Leave to cool for about 5 minutes on a cooling rack.
Have you tried this recipe? How did you like it? Leave a comment and maybe even a picture in the comments.
If you enjoyed the recipe and want to find more head over to my recipe section and join my Facebook Group which focuses on homemade vegan recipes that are affordable and healthy.
---
---