Quick And Delicious Oat Bars Recipe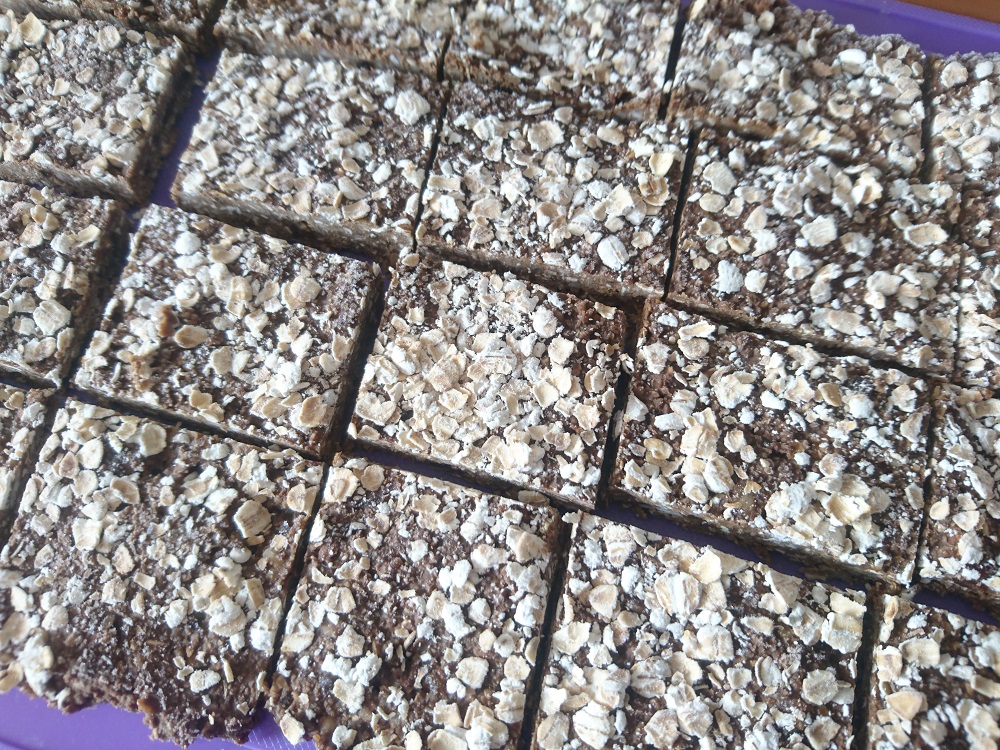 I love making my own oat milk but struggled to find a good use for the leftover oat pulp. There are plenty of good ideas like making cookies or overnight oats but these were not right for me. I love oat bars though and adapted a recipe to make it simpler and more affordable.
Oat Bars
Oats + cocoa! And no baking required. What's not to love about that?
Generally, I have my homemade granola and oat milk for breakfast but occasionally I crave something different. I always keep these oat breakfast bars in the freezer when I don't fancy granola. They also make an excellent little snack when you feel a bit peckish.
Personally, I defrost them for a little while or put them in a fridge the day before eating as I like the soft consistency. However, my partner prefers to eat them straight from the freezer. It is perfectly fine to eat them frozen or just defrost them for a few minutes in the morning. He likes the crunchy bite to it. Each to their own! However you like them them – defrosted or straight from the freezer I'm sure you will make them again and again!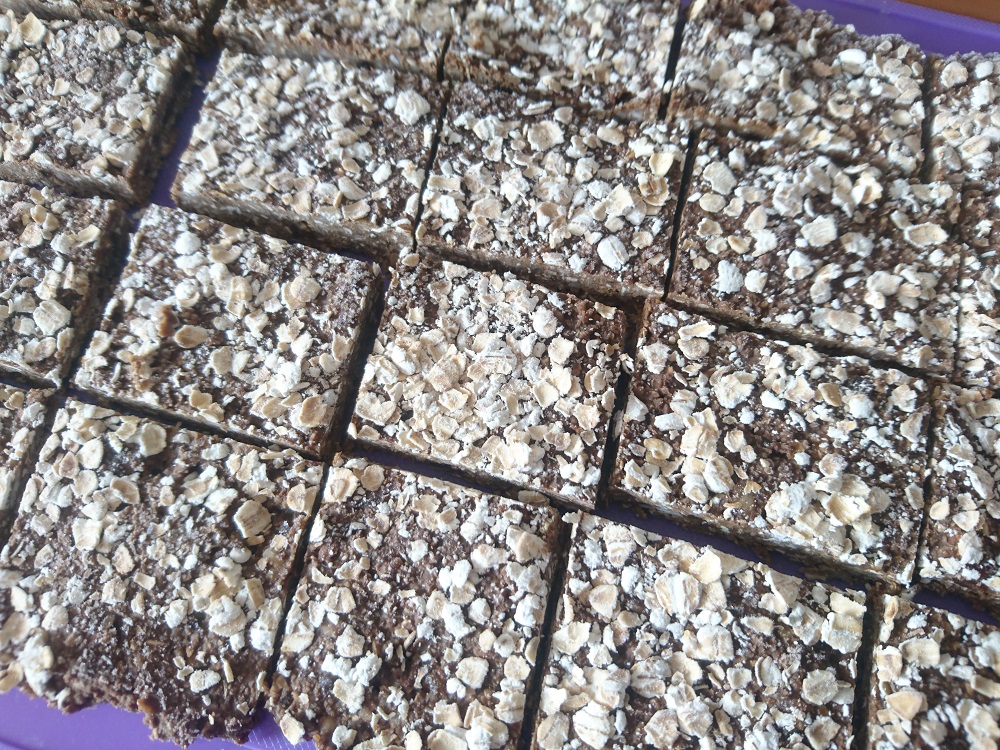 Oat Bars Recipe
This recipe is really easy and I made it without a food processor as well in the past. The oat bars will be a bit more chunky of course but they are so good either way!
Print Recipe
Easy Oat Bar recipe
Makes a nice snack or a breakfast alternative.
Keyword:
easy meal, healthy, oat milk pulp, oats, quick
Ingredients
1/2

cup

oat milk pulp

1/2

cup

rolled oats

1/2

cup

almonds

3

tbsp

cocoa powder

3

tbsp

maple syrup

1/2

ts

cinnemon

1

ts

lemon juice

1/4

ts

salt

1/2

cup

rolled oats

(optional for topping)
Instructions
Line your baking dish with parchment paper or grease it with margarine or cooking spray.

Add all your ingredients in the food processor and process until the mixture comes together.

Transfer the mixture on your prepared baking dish. Push down the mixture with a spoon and smooth out the surface. The mixture will be sticky.

If you want to add the oats on the top of your mixture spread it out evenly on the surface and press them down a bit.

Now put the baking dish in a freezer for about 1 hour so the mixture can firm up.

Using a sharp knife you should be able to cut the bars. If you left the bars in the freezer for a bit longer wait a few minutes and then cut the oat bars.
Notes
You can keep the oat bars for about a week in the fridge or freeze them for later.
These images should help you decide what the right consistancy is for your oat bars before freezing. The mixture will be soft and slightly sticky.
You can add the additional oats on top or leave them out. I'm experimenting with replacing these with sliced almonds or similar as I love nuts in my snacks. Have you tried this recipe and changed anything? Please let me know in the comments! I'm always curious to learn what else I can try.
If you are looking for more inspiration on what to do with the oat pulp I recommend this brownies recipe.
If you enjoyed the recipe and want to find more head over to my recipe section and join my Facebook Group which focuses on homemade vegan recipes that are affordable and healthy.
---
---