Affordable Vegan Butter In Minutes – Only 5 Ingredients
Vegan butter is now readily available in most supermarkets. However, I found it difficult to find any option without palm oil with is very important to us. After not finding anything in our local shops I decided to just try making it at home and was surprised that my first try was already a big success!
It is so easy that you will probably not go back to store-bought vegan butter after trying this recipe.
Aquafaba
My partner loves chickpeas and when he asked me today what to make with the leftover aquafaba I was excited to try making vegan butter for the first time. I was curious how long it would take and I can say that all in all it only took me about 10 minutes.
My partner is vegan, and in the UK all vegan butter seems to include palm oil and we try not to buy any products which include palm oil. When I was in Germany a few weeks ago vegan spread without palm oil was easy to purchase but in the UK it still seems to be quite uncommon. The recipe was incredibly easy and we had we literally made vegan butter in minutes!
How To Make Vegan Butter At Home
You will need a few ingredients and a bowl and hand blender and that's it. It couldn't be any easier. You can use aquafaba from freshly cooked chickpeas or the liquid from canned ones. Personally, we prefer the liquid from freshly cooked chickpeas. I just store it in the freezer in smaller quantities in an ice cube tray so we always have it readily at hand for baking, or making vegan butter.
Make Vegan Butter in Minutes
You will need the following ingredients to try this vegan butter recipe at home:
135 ml aquafaba
400 ml coconut oil
80 ml olive oil
30 ml apple cider vinegar
a pinch of salt
Now that you collected all of the ingredients, start by melting the coconut oil gently in a pot until it is almost all liquid. You can then remove the pot from the heat as the rest of the coconut oil will melt. This process is very quick. Add your olive oil and let the mixture cool down.

Add salt and vinegar to your aquafaba. Start blending the mixture with the hand blender. Pour some of your oil mixture into the aquafaba and continue blending. Once all is mixed, pour in more of the oil mixture. It will take a few minutes and in the end, you will have a mayo like consistency. Don't expect it to look like butter yet!

Pour the mixture into a container but leave it uncovered so it firms up quicker. You will need to chill the mixture for a few hours.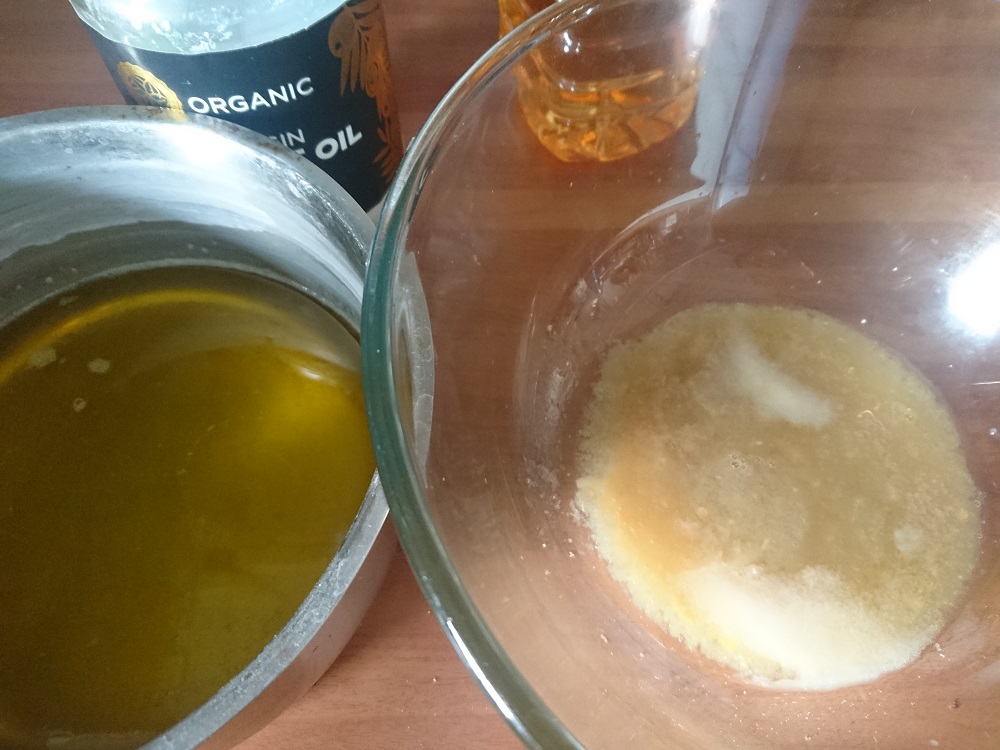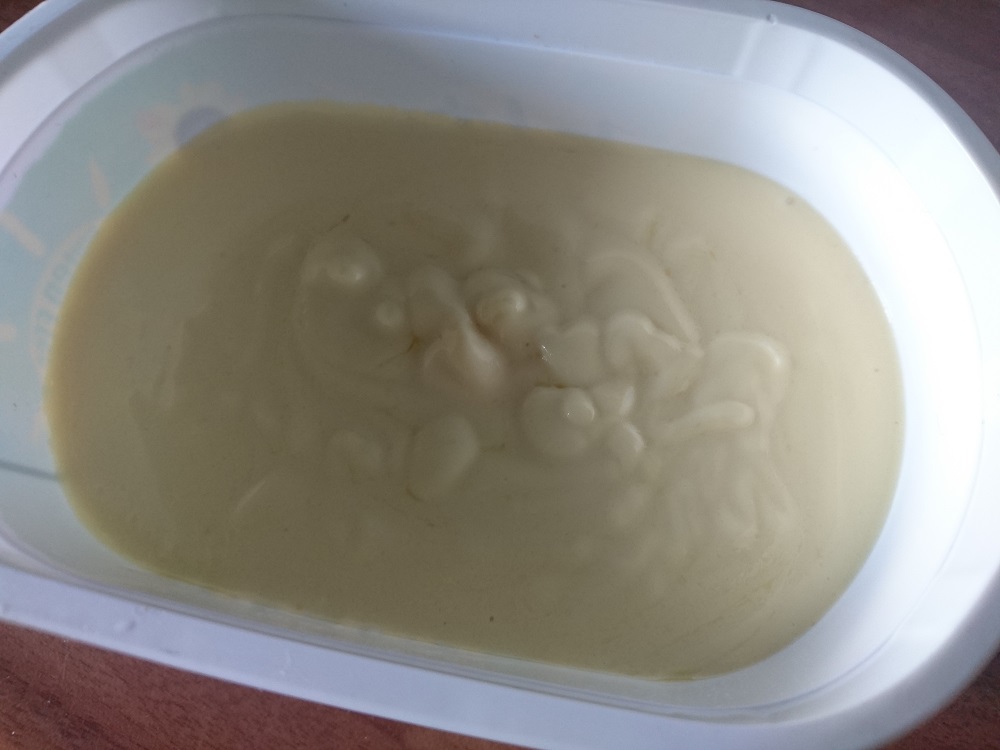 The finished vegan butter can be spread easily on bread. If yours ends up a bit firmer leave it out for a few minutes before use.
Enjoy!
FAQ
How long will vegan butter need to chill in the fridge?
A: It will take between 24 hours to 48 hours for the vegan butter to reach the final consistency. Mine took 48 hours.
Will it taste of coconut?
A: Yes, it will but it is really easy to change that! If you don't like the taste swap the coconut oil for refined coconut oil and it won't taste of coconut anymore!
If you enjoyed the vegan butter recipe and want to find more head over to my recipe section and join my Facebook Group which focuses on homemade vegan recipes that are affordable and healthy.
---
---