Easy Homemade Granola Recipe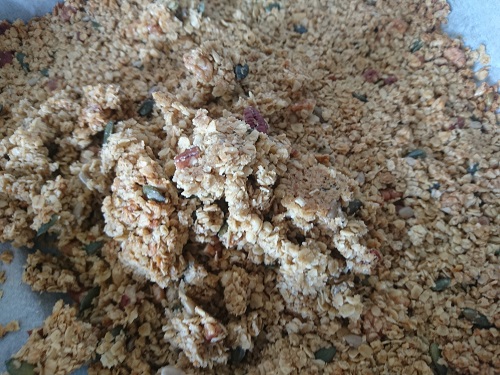 For breakfast, I like varying what I eat. Sometimes when I have enough time I will make my vegan pancakes, if it has quick I just grab a few oat breakfast bars before work. However, my go-to breakfast is this easy homemade granola recipe with oat milk. I prepare it at the weekend and store it in a jar so this healthy breakfast does not take much time at all in the mornings before heading out to work.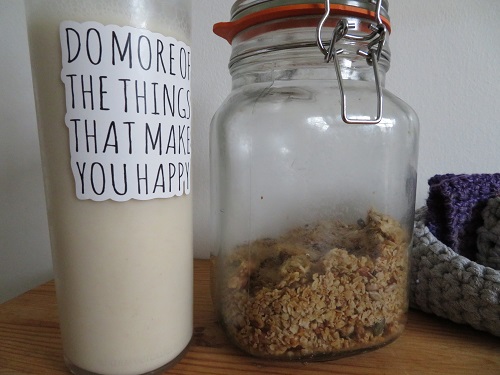 What I love the most about this recipe that it is easy and quick and very versatile! You don't like nuts? Replace them with seeds or dried fruits. Experiment and work out what you like best!
I love nuts and seeds so my granola has pecan nuts, walnuts, sunflower and pumpkin seeds mixed in.
Personally, I love my granola with nuts and seeds. I love nuts and they are healthy but I usually don't eat that many so to just eat them in the morning with my breakfast is perfect for me.
Easy Homemade Granola Recipe
Now you may wonder what you need for this recipe. Have a look at the below list and you may find that you already have all or most of these items. So simple!
Yield: Approx. 16 servings
Easy Homemade Granola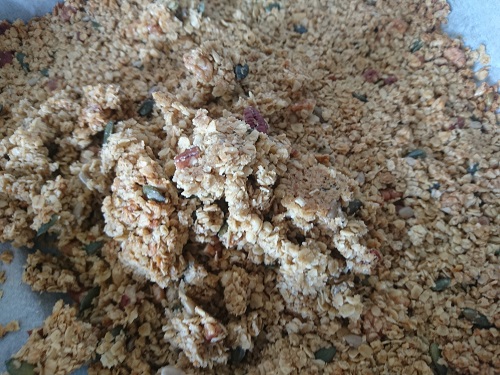 Easy recipe to make vegan granola at home. Step by step instructions will help you in making your first own granola batch.
Ingredients
4 cups of rolled oats
1 ½ cup raw nuts and/or seeds
½ ts ground cinnamon
½ cup melted olive oil
1 ts fine-grain salt
½ cup maple syrup
½ ts vanilla extract
Instructions
Preheat oven to 175°C (350°F) and line a large rimmed baking sheet with parchment paper.
In a large bowl, combine the oats with the nuts, seeds, salt and cinnamon. Stir this mixture well.
Pour in the oil, maple syrup and vanilla syrup. Mix well, until all the oats and nuts are lightly coated. Pour the granola onto your pan and use a spoon to spread out the mixture in an even layer.
Bake until lightly golden, it should take about 21 – 24 minutes. Stir the mixture about halfway through this time. If you like extra-clumping granola, use a spoon to press down the stirred granola.
Let the granola cool completely undisturbed. Wait at least 45 minutes to allow the granola to cool down as it will crisp up as it cools down.
Store the granola in an airtight container. You can keep it for about 1-2 weeks or you can also freeze it for up to 3 months.
Nutrition Information:
Yield:
16
Serving Size:
1
Amount Per Serving:
Calories:

242
Total Fat:

15g
Saturated Fat:

2g
Trans Fat:

0g
Unsaturated Fat:

12g
Cholesterol:

0mg
Sodium:

40mg
Carbohydrates:

23g
Fiber:

3g
Sugar:

7g
Protein:

5g
Nutrition information isn't always accurate.
After the granola has cooled down you will notice it is much harder and crispier. The first time I made my own granola I did not wait enough. It just smelled so good fresh out of the oven and I broke it up immediately. Mistake! If I just would have had more patience and waited for an hour it would have been even better! Now I always wait for at least an hour so it has time to cool down.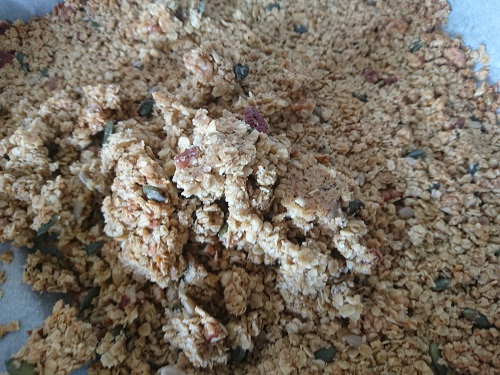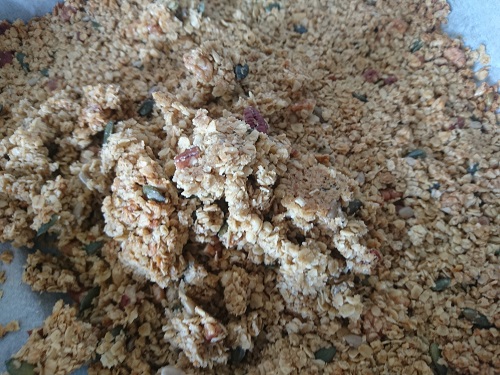 Enjoy your homemade granola! 🙂 Tell me how you liked this easy homemade granola recipe and what tweaks you tried! What are your favourite ingredients?
If you enjoyed the recipe and want to find more head over to my recipe section and join my Facebook Group which focuses on homemade vegan recipes that are affordable and healthy.
---
---